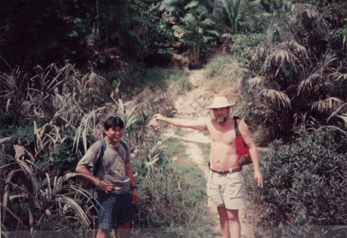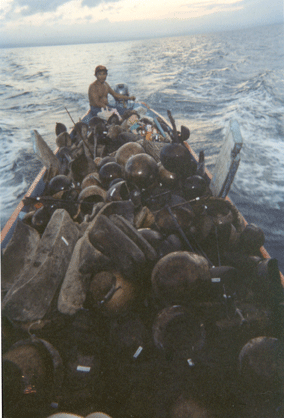 "Indiana Jones of El Paso"
Traveling to primitive cultures in distant civilizations, Larry L Baron has lived among and traded with rarely-contacted indigenous tribes to assemble a collection of rare items.

An trained anthropologist, Larry Baron has traveled far up the feeder rivers of the Amazon, the deep reaches of Africa, and remote villages of Mexico and Central America, trading with rarely-visited tribes for handwork that is common to them but rarely seen outside their environment.

Driven from the age of twelve by a passionate interest in primitive cultures, Mr. Baron acquired his formal anthropological training, beginning as an exchange student at the University of the Americas, in Cholula Puebla, Mexico, and culminating with a B.A. in anthropology at Adams State College in Alamosa, Colorado and a Master's degree, from Steven F. Austin State University.

Private Collection
Many of the items shown on this website are from LeBaron's private collection, which more closely resembles a collection that might be seen in a Museum of Natural History than one owned by a private individual.

In addition to the artifacts, Larry sells many books on anthropology and Indian cultures. Included are such titles as Salvador's The Art of Being Kuna: Layers of Meaning Among the Kuna of Panama. and Napoleon Chagnon's Yanomamo; The Fierce People.
About LeBaron's Primitives
Mr. Baron began his formal anthropological training as an exchange student at the University of the Americas in Cholula Puebla, Mexico and has a BA in Anthropology, Minor in Sociology from Adam State College, Alamosa CO in 1972 and Master's Degree in Secondary Education & Administration from Stephen F. Austin State University in 1982.
A transporter of treasures, much like the Indiana Jones character portrayed by Harrison Ford, Larry Baron has visited the Amazon of South America, the back jungles of Africa, even tiny villages 600 miles south of El Paso, Texas, trading with native tribes for handmade bows, arrows, baskets and primitive artifacts.
Larry has lived with the Indians of South and Central America as an anthropologist. He began collecting artifacts at the age of twelve. His passion encouraged him to become an exchange student at the University of Americans, in Cholula Puebla, Mexico. Later in life he became an educator and counselor for problem juveniles. He owes it all to his 7th grade field trips, where he gathered his first arrowheads on the plains of Texas.
That 12 year-old boy became a full time adventurer traveling around the world searching for things that most people will not be able to find in a lifetime.
He experienced occult ceremonies with Yanomamo Indians in the Brazilian Amazon jungle, where he was almost stabbed with a knife by a tribe member during a ceremony, has been around the Mexican Copper Canyon and fell in love with Tarahumara and other ancient Indian cultures.
Larry has traveled to some of the world's most strange and dangerous places to get rarities and artifacts. Some of those places are Alaska; Africa; South Africa; Namidia, SW Africa; Copper Canyon, Mexico; Amazons, Brazil, Panama, Peru, Bolivia, England, Belgium, Belize, the Yukon, Guatemala, Honduras and El Salvador. His last visit was to China in January of 2010, and he studied Chinese Cultural Biosphere in China in 2011.